Miss Grant's Reading Challenge
The last reading challenge of this academic year is to join the WWF Summer Reading Challenge https://www.wwf.org.uk/get-involved/schools/summer-reading-challenge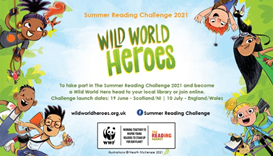 WWF has teamed up The Reading Agency to get children to connect with the nature through the power of reading and writing and to explore the biodiversity of their local green spaces.

Children's Recommendations
Reception
Primrose – Bea – Splat the Cat by Rob Scotton – I like when Splat wouldn't get out of bed when he was scared about going to school. Then he realised school wasn't that bad. I really like Splat the Cat.
Daffodil – Aneisa – Big Yellow Digger by Julia Jarman – There are dinosaur bones and they did a big whole. The children rush home to play.
Bluebell – Jaffar – Spiderman by Marvel Comics – I like when Spiderman and Iron Man combine. Superheros save the world and when I grow up I am going to save the world.
Snowdrop – Kyra – I'm Not (Very) Afraid of the Dark by Anna Milbourne – It is about the scary darkness. My favourite page is when you can't see the footprints and it is silly. Sometimes I would like to get a flash light and see the stars.
Year 1
Elm – Noah - Dragons vs Dinosaurs by Helen Baugh - I like how they use magic to change into different costumes. The fierce dragon costume is my favourite one they change into. I like other books from this author, but this is my favourite one
Oak – Alice – Goldilocks and the Three Bears by Clare Fennell – I like it because it has Goldilocks in it. The 3 bears are happy because they were going outside. It has Goldilocks in it and she at the porridge.
Willow – Casper – Chapatti Moon by Pippa Goodhart – I like this book because I found it funny when the chapatti fell down the hill.
Ash – Emma and Amyra - Max the Brave by Ed Vere. I like it because it is so funny! The mouse tricked the cat, he was very clever.
Year 2
Sparrow - Laurel – Just Josie and the Lucky Number by Emily Gale – Josie was jealous of Zak because he was showing off his dog. MY favourite character is Lily because she preservers with learning to say 7. Year 2 should read it because it teaches you not to show off like Zak and try your best like Lily.
Owl – Kaylan – Bumble Bear by Nadia Shireen – I like this book because it has a good ending. My favourite part is when he goes back to school. People should read this book because it is a fun book to read.
Robin – Amelia – Ruby's Worry by Tom Percival – I love this book because it has people helping each other and people being kind. My favourite character is Ruby because she loves going outdoors like me! You should read this book if you want to learn how to help yourself and help other people.
Woodpecker – Taylor – Captain Underpants and the Attack of the Talking Toilets by Dav Pilkey – I like this because it is very funny and I really enjoyed it. My favourite character is Captain Underpants because he pulls pranks. You should read this if you would like to go to a new world.
Year 3
Navajo- Christopher - Marcus Rashford, You are my Champion - It is very inspiring and gives me confidence, you learn all about his childhood and how he became such an excellent footballer. Packed full of stories of Rashford's life.
Year 5
Ra - Elena - Holly Santa Paws Saves Christmas by Daisy Meadows - I like the book because at Christmas time I read it and it gives me the Christmas spirit! Lilly is my favourite character because she is very brave and is never afraid to say what she thinks. I think anyone who is interested in dogs and Christmas would like this book!
Year 6
Hurricanes - Zion - Middle School Princess by Meg Cabot - I enjoyed reading this book, because it has adventure and action, as well as an aspect of fantasy. It is filled with excitement and fun events, but also with danger. My favourite character is Olivia because she is fun and has a hidden past. She thinks about herself as being an average girl, however, she later discovers more about her personality and character. She learns to love herself for who she is. I recommend this book to children that like action and fantasy, and age wise around 7 to 9 years.