Miss Grant's Reading Challenge
Hope you all enjoyed visiting a library over half term. Macy went with her grandma and she looks very happy to be borrowing some books.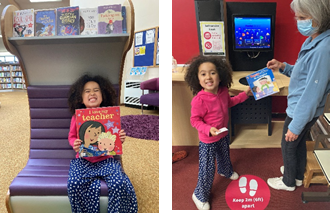 This week's reading challenge is to read a poem. If you find a poem that you particularly enjoy please share it by emailing primrose@georgespcier.enfield.sch.uk

Children's Recommendations
Reception
Primrose – Lyla-Rose - Children's Cookbook by Fiona Watt – It makes me happy because it has recipes to make cupcakes and flapjacks. My favourite recipe is marshmallow crispies because I like marshmallows. You need to follow the instructions to make sweet treats.
Daffodil – Aine – Princess Dreams by Lori Froeb –My favourite part is when they are in the boat and the lights go up. Rapunzel is my favourite because she has long hair. Rapunzel has a sister and I have a sister.
Bluebell – Ayla – Max the Brave by Ed Vere – This is my favourite book as it shows you that even if you are little you can still be brave. I like the page where Max sees the goldfish because he thinks he is a mouse. I like Max chasing the mouse.
Snowdrop – Joshua – Snowball by Sue Hendra – It is a funny book, he goes into town and he went into somebodies washing line. He rolled down the hill and grew and his hands and legs were gone!
Year 1
Willow – Erin – Ellie's Magic Wish by Kale Daubney – I like it because Ellie's magic wish comes true. I liked that she had a magic wand. Her clothes are sparkly and shiny.
Elm – Jameelah – Little Leaders Bold Women in Black History by Yashti Harrison – It is all about black history. I like reading this at home. I think ballerina is my favourite.
Oak – Lerey – Beauty and the Beast by Disney – It is my favourite story because it has a beast. Beauty the princess is my favourite character. I like it because it a nice story.
Ash – Stickman by Julia Donaldson
Maddie – I liked when they go to the beach because they build a sandcastle.
Callis –I like when they went to the park and the stickman played games.
Year 2
Sparrow – Drusilla and her Brothers by Dyan Sheldon – I like Drusilla because she is funny and a strong character for beating all of her brothers. Her brothers try to tease her but she gets them in trouble. Year 2 will love it because it will make you laugh and Drusilla comes out on top in the end!
Owl – Jasin – Little Blue, Big Blue by Malachy Doyle – I like this book because the mummy whale saves the baby whale from danger. My favourite characters are the black and white whales because they are my favourite colour. Read this book if you like books about adventures.
Robin – Gabriella – The Night Before Christmas by Clement c. Moore – I like this book because it makes me happy and reminds me of Santa. My favourite character is Santa because he has all the presents. You should read this book if you love nice stories and you want to feel happy.
Woodpecker – Ajayan - Doughnuts for a dragon by Adam Guillain and Charlotte Guillain. This book will make you giggle. In the book, you will meet lots of amazing characters. If you like donuts, you should read this book!
Year 3
Fred - Horrible Histories by Terry Deary, Peter Hepplewhite, and Neil Tonge - It's all about history and the world wars which is very interesting. Great illustrations to go with the book.

Susannah- Agatha Oddly by Lena Jones - Great characters and detective work to find out who the murderer is.

Isabella- Slime by David Walliams - All about horrible adults and the plan doesn't go to accordingly.

Isaac- Skullduggery Unpleasant by Derek Landy – A skeleton detective and his adventures trying to stop the apocalypse occurring. Very interesting vocabulary.
Year 4
Theseus - Indigo - The Ickabog by J.K. Rowling - I liked that it was very adventurous when they were searching for the Ickabog. I also enjoyed the fact that there was a little bit of magic in the story, it made it more exciting. I would definitely recommend this book to other children that like the Harry Potter books!
Achilles - Alex - Land of Roar by Jenny McLachlan - It's an excellent adventure book about two children, Arther and Rose, who go on lots of amazing adventures together. The get into lots of sticky situations but always find a solution to every problem the encounter. The vocabulary is incredible, and I will be stealing some of it to use in my writing. The good news is that there is also a follow up, which I have just started to read. I highly recommend this book.
Heracles - Dillan - Way of the Warrior Kid by Jocko Willink - I would recommend this book as it teaches you discipline, how to stand up to bullies and not be afraid.
Odysseus - Carolyn - The last chance hotel by Nicki Thornton - I like this book because it is full of magic, murder and mystery.
Year 6
Hurricanes – Issie – Unbirthday by Liz Braswell - I really like this book and my favourite character is Alice because she is adventurous and looks like she will be fun to be around. I would recommend this book to anyone and in particular to Nyla because we have similar taste in books, and I think he will love it.
Lancasters – Bobby - Cowboy Pug by Laura James - This is a very good book because all the characters face adventures and obstacles which I like to read about. My favourite character is Pug because he is the goofiest and funniest character. I would recommend this book to dog lovers and animal lovers.
Spitfires - Sophie – Wonder by R. J. Palacio - I like the book Wonder because each chapter is from a different perspective. My favourite character is August because even though he doesn't look like everyone else he still keeps going and doesn't let anything knock him down.
Defiants - Chloe - Blended by Sharon M. Draper - My favourite book is blended because the book shows how the girl struggles in life and people who read the book might take inspiration in how she copes in the book. The book is about a girl named Isabella who has parents who are from different backgrounds. She tries to find herself, and to understand is she is black or white. She learns about how it doesn't matter what you look like, but it matters to care and that is why this is my favourite book.