George Spicer Summer Club 2019
George Spicer Summer Club 2019
21 May 2019 (by admin)
Are you looking for childcare this summer holiday?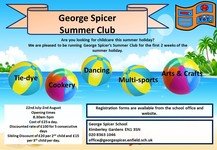 We are pleased to be running George Spicer's Summer Club for the first 2 weeks of the summer holiday.
Club will run from 22nd July to 2nd August
Opening times 8.30am - 5pm Cost of £25 a day.
Discounted rate of £100 for 5 consecutive days Sibling Discount of £20 per 2nd child and £15 per 3rd child per day.
Registration forms are available from the office or click on the link below.