Arbor Parent Portal & App
Welcome to the Arbor Parent App
At George Spicer Primary School, we understand the importance of keeping parents and carers closely involved in their child's educational journey. That's why we are excited to introduce the Arbor Parent App, an innovative and efficient tool designed to foster seamless communication and engagement between the school and our valued parents and carers.
What is the Arbor Parent App?
The Arbor Parent App is a user-friendly and secure platform that provides instant access to essential information about your child's school life. From attendance records to academic progress and even behavioural updates, the app ensures that you stay informed every step of the way.
Key Features and Benefits
Real-time Updates: Receive timely notifications about your child's attendance, behaviour, and academic achievements.
Seamless Communication: Stay connected with the school through in-app messaging, reducing the need for traditional communication methods.
Convenience at Your Fingertips: Easily access your child's timetable, school announcements, and key information, making it simpler to stay on top of their educational journey.
How to Get Started
Getting started with the Arbor Parent App is quick and easy. Simply follow the step-by-step instructions provided below:
Download the App: Locate the Arbor Parent App on the App Store or Google Play Store and download it onto your mobile device.
Login Information: Use the login credentials provided by the school to access your child's personalised information securely.
Explore the Features: Familiarise yourself with the various features available and make the most of this convenient tool to track your child's progress and stay updated.
Stay Connected, Stay Informed, and Stay Tuned for More!
With the Arbor Parent App, you are always just a tap away from staying informed about your child's education. Embrace this opportunity to be an active part of their learning experience and journey with us towards a brighter future.
Additionally, we are excited to announce that we will be rolling out more exciting features and updates over the coming months, further enhancing your experience with the app.
Get a Sneak Peek with the Arbor Parent App
Curious to see how the Arbor Parent App works in real time? Take a moment to watch the video below, which demonstrates the various features and functionalities of the app. Discover how easily you can track your child's attendance, keep up with their academic progress, and communicate with the school, all from the convenience of your smartphone.
Our Arbor Poster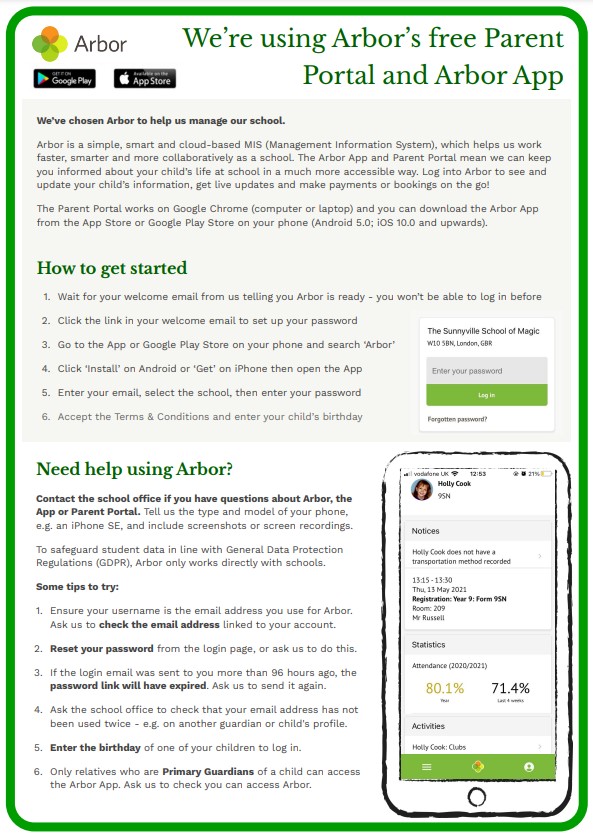 Trouble logging in?
It may be because we don't have your current email address and mobile phone number on record. Please contact the school office and we'll update the details on our system.