Walking Bus - Get on board!
Walking Bus - Get on board!
18 July 2018 (by admin)
If any parents are interested in using the walking bus from September, please contact the school office.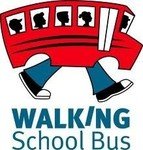 Ms Barker does a fabulous job every
morning leading the bus and getting the children to Sketty Road safely.
The children really enjoy their morning trip. She will be leaving at
8.45am from the Kimberley Garden Office every morning.
We are also planning to run a bus going the other way; from Sketty to
Kimberley at 3.15 – so if you are interested let the office know!