Summer Club 2017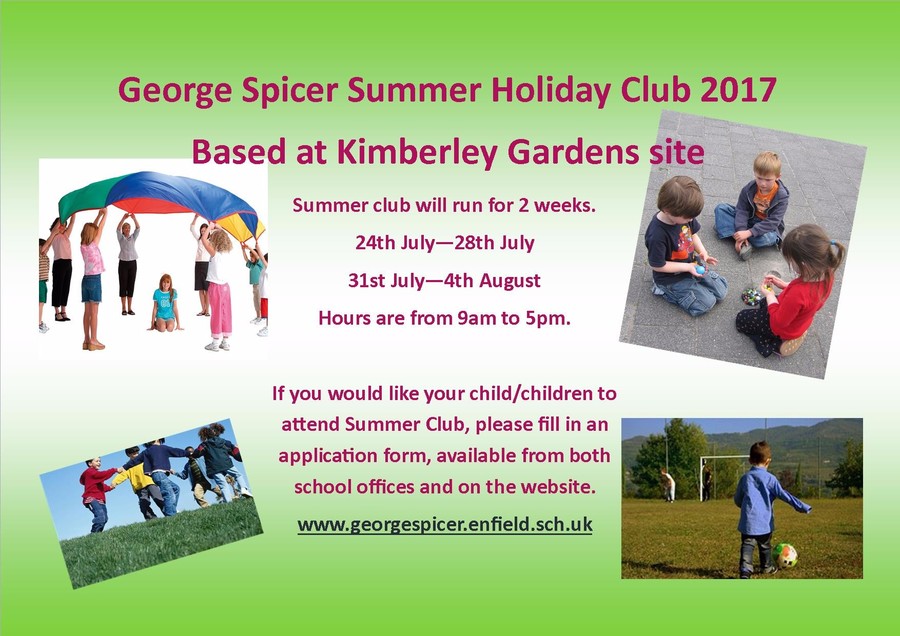 Hours and Costings
Summer Club 2017 will run from 9am to 5pm, Monday 24th July to Friday 4th August. The charge is £25 per day. All registration forms and a non-refundable deposit of £20 per child will need to be in by Friday 23rd June. Full payment must be paid by the 7th July in order to guarantee your child's place. Payment should be made via Parent Pay. Please send your child in with fruit and a packed lunch (no nut products allowed). We will supply an afternoon snack and soft drinks.
More Information
If you have any questions or issues you would like to discuss regarding registration or payment, please contact Mrs. Cassidy at Kimberley Gardens (020 8367 5384) or Mrs. Alexander at Sketty Road (020 8363 1406), or by email afterschoolclub@georgespicer.enfield.sch.uk.
Registration forms will be available at both offices and electronically on the link above.

Important Notice

Please ensure that your child's registration form is returned to the school offices or the managers of the Breakfast and After School Club by the 23rd June.